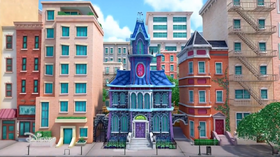 The Scare B&B is a Bed n' Breakfast that appears in Vampirina. Located in Pennsylvania, It is the home of Vampirina Hauntley and her family.
Information
Since Oxana was a little vampire, she had always dreamed of running her own Monster Bed n' Breakfast, and her wish came true after the family moved to Pennsylvania. Suitable for the everyday ghouls, the house is dark and spooky. While it is a Bed n' Breakfast for ghouls and monsters, the Hauntley's also accept human guests as long as they keep a low profile. When they have human guests, the Hauntley's have to de-scare the house to avoid any superstitions of their home is haunted.
The house is filled secret passages, one specifically leading to a room full of Halloween costumes. Vampirina's bedroom is located at the very to of the house. It is so far known that the B&B has only one guest room.