Welcome to Vampirina Wiki
Welcome to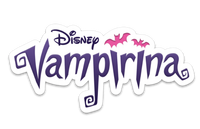 Wiki
We are currently editing over 331 articles, and 776 files.
---
You are on the home page of the Vampirina Wiki, a wiki for the American-irish animated television Disney Junior series Vampirina, which premiered on October 1, 2017!
About Vampirina Wiki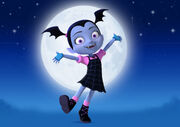 Vampirina is an American-Irish animated television series created by Chris Nee for Disney Junior. The story tells of a young vampire girl, who becomes the new kid in town when her family moves from Transylvania to Pennsylvania to open a local Scare bed and breakfast for visiting ghouls and goblins. Read more
Featured Character: Vampirina Hauntley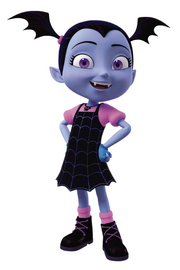 Vampirina "Vee" Hauntley is the main protagonist of Disney Junior animated series, Vampirina. She is a six-year-old vampire, whose family moved from Transylvania to Pennsylvania to open a local Scare Bed n' Breakfast.
Description: Vampirina is a sweet, happy, caring, enthusiastic, energetic, friendly, fun-loving, smart, joyful, funny, batty, kind, loving, bubbly, spunky, perky, cheerful, upbeat, and good-hearted kid who likes to make human friends. Like all vampires, Vee can transform into a bat. However, when she gets nervous she gets a case of the Battys, which is transforming back and forth into a bat uncontrollably. Also like all vampires, Vee can move very fast. She can instantly zoom from one place to another in a second without needing to speed up or slowing down. She also has super hearing that makes things far away loud and clear. As seen in "Vampire Weekend", mastering all the abilities of a vampire is challenging, and requires a lot of concentration.
Looks: Vampirina is a young vampire. She has periwinkle skin, pointy ears and fangs. Her hair is black with bat wing pigtails and has violet eyes. She dresses in a pink top and black dress with a spider web pattern, wears blue fingerless gloves, and black boots along with pink socks. At bedtime, she wears pink and purple pyjamas, with a skull face on the front. Her sleeves and pyjama pants have bat patterns all over, and wears purple bat slippers.
Appearances: Vampirina appears in every episode of Vampirina. Her debut was "Going Batty".
Featured Episode: "Going Batty"
"Going Batty" is the first segment of the first episode of Vampirina. It premiered on October 1, 2017 alongside "Scare B&B".
Summary: Vampirina is nervous about making new friends after she and her family move from Transylvania to Pennsylvania.
Featured Poll
Who is your favorite character?